A Goal Zero Nomad 7 Solar Panel now lives with each member of our family.
When electric power goes out for more than a few hours during a winter storm, we start feeling vulnerable and cold with no lights or heat. If we continue using our cellphones the battery power gets low and that can be uncomfortable. Most of us feel rather shut-off from the world without our electronic devices.
After last winter's long power outage during the ice storm I chose to take action.
While walking outside during the power outage, it was impossible to avoid hearing the load roar of gas generators at a few homes. So I decided to seek solar power solutions since they are silent and there's no smelly exhaust!
I found the line of Goal Zero Portable Solar Power Products. They make all sorts of solar power generators, solar panels, solar power kits, battery packs and lights.
The little Goal Zero Nomad 7 Solar Panel (about the size of a book) lets you charge your phone in sunny or overcast weather. It even works through a window for a location with no outside access, like an apartment.
It will be really handy during a power outage, for camping trips or even while travelling. A little peace of mind item I am sharing with you!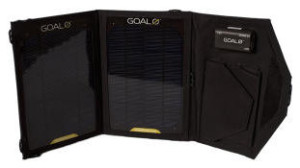 I have no affiliation with the manufacturer or sellers of these products.
Julia Grace McCammon is an experienced, natural healer caring to improve life situations. She has demonstrated her gift to deliver intelligent Life Force across the world, to enhance clients' health, happiness and well-being. People benefit according to their personal needs, many express transformative emotional, mental, physical and spiritual improvements. Her healing abilities have been measured, documented and published in international, peer-reviewed science journals.