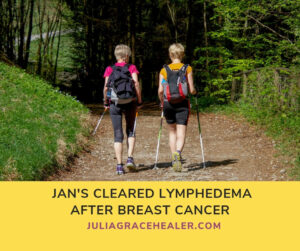 I had a personal distance session with Julia and found that the discomfort from lymph build up in my right armpit area had cleared up. I had lymph nodes removed due to breast cancer 22 years ago. For the first time since last summer I can sleep on my right side and go walking or urban poling without the uncomfortable clogged sensation bothering me. Thank you Julia.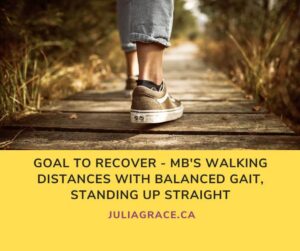 I connected with Julia due to leg difficulties with decreased mobility and an unbalanced gait. My goal was to recover my ability to enjoy my long walks again. I have been connecting with telephone sessions and receiving Remote Energy Transmissions. We have worked on different areas physically and emotionally that have come to our attention as we proceed with my initial goal. I am walking increasing distances with a balanced gait as well as standing up straight with ease. I had come out of a difficult time of life transitions that had left me exhausted and I am now also stronger in many ways. Addressing topics from old history to current concerns has been easy and fluid. I have found Julia to be compassionate and quick to understand my position as well as encouraging me to reassess my viewpoint on occasion while maintaining rapport. We leave each session on a very positive note.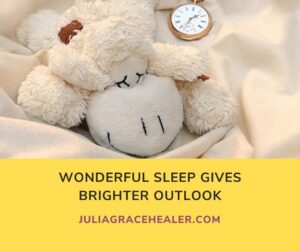 Good morning Julia
Just wanted to thank you for the wonderful sleep I had last night. Could barely keep my eyes open at 10:30 and slept till 9:00.
The world always looks so much brighter when you're rested.
Thank you so much.
Consistent Connection Creates Lasting Change
Some may benefit quickly, others need more time, allow 3 months minimum
Julia Grace McCammon is an experienced, natural healer caring to improve life situations. She has demonstrated her gift to deliver intelligent Life Force across the world. It may enhance clients' health, happiness and well-being. Most people benefit according to their personal needs, some express big emotional, mental, physical or spiritual improvements.