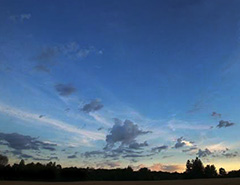 Ever experienced a night with a fly buzzing around your bedroom – it's nagging bzzz around your head wakes you up throughout the night?
I recently survived such a night – kept debating whether to simply get up and kill the darned thing (and wake my sleeping husband) or hope it would settle down so I'd sleep. Letting the fly live didn't work out so well, it was a long night!
But you know I think there's a lesson in it!
Sometimes we have to take action, even if others aren't going to appreciate what we're doing.
Good luck with your doing!
Julia Grace McCammon is an experienced, natural healer caring to improve life situations. She has demonstrated her gift to deliver intelligent Life Force across the world, to enhance clients' health, happiness and well-being. People benefit according to their personal needs, many express transformative emotional, mental, physical and spiritual improvements. Her healing abilities have been measured, documented and published in international, peer-reviewed science journals.